Don't just order steaks online. Order the best steaks anywhere.
We make it easy for Halifax to order prime steaks online and enjoy them at home. It's that simple. We're from Nova Scotia and we've spent almost 50 years sourcing and supplying premium beef for restaurants. So, why not do the same thing for people who want the best? Halifax's finest butcher shop – Chophouse Steaks. And we're always open online.
All beef selected from the top 2% of the herd or better. We dry-age USDA prime beef in-house. We're the exclusive local purveyor of Brant Lake Canadian Wagyu. We also carry 100% authentic Japanese Wagyu.
You'll love the quality. Guaranteed.
So what makes them so amazingly wicked?
Where we get it
We source our premium beef from the best cattle regions in North America, and we go beyond to source Japanese Wagyu beef directly from Gunma Province in Japan. We also only work with producers who are as knowledgeable about beef as we are, because providing ultra-premium quality steaks starts with how the cattle are raised.
What we look for
Nothing short of top-quality. We set the bar at beef that has been graded as the top 2% or better of the entire beef supply. In some cases, it's as high as .5% of the top 1%. We look at the entire life cycle of the animal from birth to slaughter including living conditions, type of feed in the animal's diet and other factors that influence the beef's flavour and texture.
How we cut it
We've spent almost 50 years sourcing premium beef and carving it. Our butchers are the best in the business and hand-cut and trim every steak. It's an eye for detail that makes a huge difference. From the finest striploin steak to beef tenderloin, ribeye steak and the massive tomahawk steak, we do it all to perfection.
Why we do it
Because world-class steak shouldn't be reserved for steakhouses. And we want people to stop eating mediocre meat. So, we made these premium cuts of beef available online and easily accessible right here in Halifax. You pick it. We package it and deliver throughout the Halifax area.
It's easy. It's simple. You'll love it!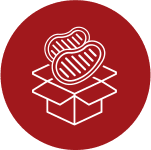 Browse the beef in our online shop
How does ordering meat online work? It's easy. And, you won't find a finer selection anywhere. All you have to do is choose your cut and weight. You can build your own order or pick one of our curated boxes. You can also call our beef gurus and we'll help you pick the perfect steaks.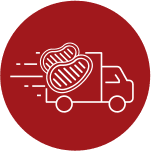 Order
Place your order and pick your meat delivery option.
Delivery within 50km radius of Halifax.
Pick-up at our warehouse.
Call for special shipping arrangements (outside of delivery area).
Please note. We are an online butcher shop only. We do offer order pick-up at our Halifax warehouse, but we do not have a retail location. Order online or by phone only.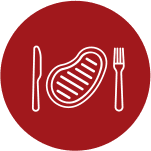 Enjoy
When the steaks are in your hands, treat them right. Place them on a metal baking tray to thaw. Do not cook from frozen…or we'll come get you. Check out our cooking tips and recipes to help you out. All we want is to ensure you enjoy the perfect steak.
Get a taste of what the world's best steakhouses are serving.
Thawing Method
Every Chophouse Steaks steak has been flash frozen to lock in the flavour and moisture. Whether it's our USDA Prime, Dry-aged USDA Prime or Wagyu steaks, proper thawing is as important as proper cooking technique. Don't mess with perfection. Follow these thawing instructions:
Thaw on a dish in the refrigerator in the vacuum-sealed package.
Never defrost at room temperature.
Never thaw by running under hot water.
Smaller items thaw in approximately 24 hrs. Larger items can take 48 – 60 hrs.
Steaks can be re-frozen if not removed from vacuum-sealed packaging.
Quick Thawing
If you're stuck for time, and we mean you have no other choice, you can quick thaw steaks in a sink of cold water. Simply immerse the steaks (we don't need to tell you to leave them in their vacuum-sealed packages do we?) in the water for approximately 90 minutes.
Cooking tips
Always preheat your grill
USDA Prime & Dry-aged Prime -Sear on high heat (1 min/side) first. Lower temperature and continue grilling to desired doneness.
Canadian & Japanese Wagyu – Do not grill over direct flame unless your fire insurance is paid up. Cook in a cast iron pan on grill or stovetop.
Always rest steaks for at least 5 minutes after removing from heat. Internal temperature will rise another 5 – 10 degrees during that time.
Use a meat thermometer to check doneness – 110-120F (rare), 120-130F (medium rare), 130-140 (medium)…cooking further to medium-well or well-done is a crime we won't be part of.
Cooking times will vary based on cut and weight (thickness)
Barbecuers Rejoice!
You can't stop love.