Don't just order dry aged steaks online. Order the best steaks anywhere.
Chophouse Steaks Online Butcher Shop
When you bite into a dry aged steak that you have cooked yourself, you want it to be perfectly succulent, tender and of restaurant quality. We make it easy for you to order prime steaks online and enjoy them at home. It's that simple. Why it is so important to source your steaks from a trusted supplier, like us here at Chophouse Steaks? Located in Halifax, Nova Scotia, Canada, we are an online butcher shop that strives to provide our customers with premium meat products that they love and trust. Our guarantee? We've got almost 50 years of sourcing and cutting premium beef from the best beef regions in the world. When you buy from us, you always get steakhouse quality. No ifs, ands or buts about it!
All beef selected from the top 2% of the herd or better. We dry-age USDA prime beef in-house and we're the exclusive local purveyor of Brant Lake Canadian Wagyu. We also carry 100% authentic Japanese Wagyu.
You'll love the quality. Guaranteed.
 What Makes Our Products So Special?
Where we get it
You are probably wondering how we manage to be so confident about the quality and taste that we are able to provide you with. The secret lies in how we select our beef. All of our beef is selected from the top 2% of the herd, or better. Furthermore, we dry-age our USDA prime beef in-house. So, we know the effort that goes into it in order to ensure that it tastes incredible and that every mouthful is a memorable experience. 
How we cut it
We've spent almost 50 years sourcing premium beef and carving it. Our butchers are the best in the business and hand-cut and trim every steak. It's an eye for detail that makes a huge difference.
Along with promising premium quality, we also go over and above to ensure that we are able to offer a superior selection of popular beef cuts for our customers to choose from. In other words, whether you are after a tender tenderloin or a tasty tomahawk, you can rest assured that you will find it here. 
Why we do it
Need any more reason to buy from Chophouse? Well, here it is. We're the exclusive local purveyor of Brant Lake Canadian Wagyu and also carry 100% authentic Japanese Wagyu. In short, when it comes to Wagyu, we know best! Because world-class steak shouldn't be reserved for steakhouses. And we want people to stop eating mediocre meat. So, we made these premium cuts of beef available online and easily accessible right here. You pick it. We package it and deliver.
Placing an order. It's easy. It's simple. You'll love it!
Our team has made certain that it is super simple to place an order via our online butcher shop. You can order effortlessly online by following the links on our site. From there, you select your pick-up or delivery option, and we will do our best to get your beef to you, stat.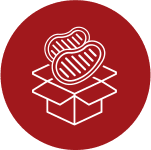 Browse the beef in our online butcher shop
How does ordering meat online work? It's easy. All you have to do is choose your cut and weight. You can build your own order or pick one of our curated boxes. You can also call our beef gurus and we'll help you pick the perfect steaks.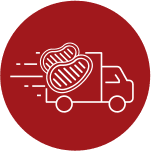 Order
Place your order and pick your meat delivery option.
We deliver to most areas in Canada.
Local Delivery within 50km radius of Halifax.
Pick-up at our warehouse.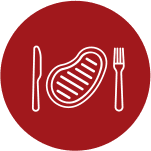 Enjoy
When the steaks are in your hands, treat them right. Place them on a metal baking tray to thaw. Do not cook from frozen…or we'll come get you. Check out our cooking tips and recipes to help you out. All we want is to ensure you enjoy the perfect steak.
Please note. We are an online butcher shop only. We do offer order pick-up at our Halifax warehouse, but we do not have a retail location. Order online or by phone only.
Get a taste of what the world's best steakhouses are serving when ordering our dry aged steaks and quality steak cuts online.
Barbecuers Rejoice!
You can't stop love.